Here are some occasional  comments on gear that The Logging Road Cyclist likes.
TLRC's Short
There are many pictures throughout the site of TLRC's beloved ride. The frame was built by Mike DeSalvo in 2008, one of his custom Ti crossbikes. Mike is a joy to work with and TLRC wholeheartedly plugs his products and the process through which they are built.
The Ride has mountain bike gearing: 22-32-44 up front and 11-34 in the back.  This may be a bit unusual for a crossbike, but TLRC is climbing hills, not racing, plus he is old and has no desire to have any more knee surgeries. It's hard (but not impossible) to get road brake lever index shifting to work with an MTB crankset. TLRC got sick of fiddling with it after a while and has a bar end shifter for the front and standard 9-speed lever for the back. Just to be perverse, he put the bar end on the same side as the shifter, and never ceases to be amazed at how much that seems to bother people.
After sliding nearly brakeless off McCulloch Peak one snowy, rainy winter's day, TLRC switched to mechanical disks and never looked back. For steep winter riding they are worth whatever little extra weight they add, and then a lot more.
Add in the required-in-Oregon Chris King headset, bottom bracket and hubs, and that's it: A solid, trouble free ride that gives TLRC confidence he'll get back from wherever he winds up.
Oh, yeah tires. For years TLRC used 35mm Schwalbe Marathons and was completely satisfied. They are amazingly tough and take forever to wear out. Good on pavement as well. For some reason, a tire change seemed in order this year, and the knobbier 35mm Schwalbe Land Cruisers are being used to very good effect.
Gloves
Like most Oregon riders (he imagines), TLRC has looked far and wide for good winter riding gloves. He finds it amusing when folks from, say, California, tell him of the latest, greatest glove that they are using. TLRC asks: "How would they work if you soaked them in a bucket of water for 45 minutes?", knowing full well that this is unreasonable, but getting the point across that it is not just COLD here, but WET (or, to reverse the common saying about heat in the desert Southwest:"It's a wet cold").
These seem to fill the bill: Mountain Hardware Epic gloves. They actually seem to be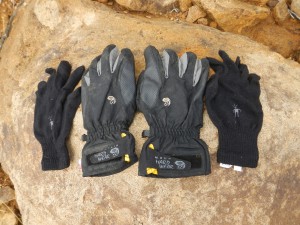 waterproof and breathe as advertised. They are not as warm as TLRC would like, but he got them big enough to fit over liner gloves (like the Smartwool gloves shown) , and is happy with the result.
Carrying Stuff
When he started logging road cycling, TLRC carried almost nothing. In fact, usually just an extra sweater-thing and jacket tied around his waist. As his rides became longer and more complex it became clear to him that things like food, gloves, a map, maybe a compass, perhaps enough spare tubes so that  he could avoid fiddling with a patch kit in the rain (thus avoiding hypothermia) weren't unreasonable accoutrements.  These little extras were accommodated in a series of steadily expanding fanny packs and camelbacks. The final straw was TLRC's decreasing resistance to cold which was requiring more clothes for frigid descents or just inclement weather. Rather than fight it, TLRC got a bigger pack. This one by Wingnut Designs is great. It has a big central compartment, two big side pockets with zippers with mesh pockets outside of them. It can be simply modified to carry a rolled up jacket on the bottom, allowing for a pretty massive winter load.