Several years ago, on one of his endless MacDonald Forest training rides, The Logging Road Cyclist realized that he had long been ignoring the presence of an obvious objective. Looking due west from the steepest part of the 700 Road on the back side of McCulloch Peak there was a pretty large bump on the horizon. Price Creek pointed, arrow-like, straight at it.
Back at The Forest Estate, TOPO! and The Google Earth made short work of figuring out what the bump was: Little Grass Mountain. Per the name, large meadows adorned the summit. At 2700′ (about) Lil' Grass wasn't what TLRC thought of as one of the Great Summits of The Coast Range (>3000′), but it was close. An interesting peak. From the resources at hand, it appeared that there wasn't a road to the top. Drainage-wise, it sat right at the top of both the Mary's and Yaquina Rivers. TLRC and his old buddy D had passed by it on their way to Green Mountain, and TLRC had seen the road to Lil' Grass (maybe), but beyond that the project lay dormant for a couple of years.
Enter 2016, with TLRC slowly dragging his way out of the latest pit of infirmity, and a very old biking buddy indeed likewise wanting a non-crushing ride. This one seemed made to order, as (barring getting lost) it seemed like summiting Lil' Grass was at most an 8-10 mile affair without a whole lot of climb. Off went TLRC and Gnat to somewhere new.
They drove out past Summit, turned right at Nashville and shortly parked at the base of Green Mountain Road. Strait on up through some pretty second growth, they climbed steadily to Little Grass Road (yup, there are road signs with names and everything).
Then the ride got nice. It must be on federal land, because there was old growth.
They stayed on Little Grass Road until they reached the saddle above the Luckiamute drainage, which was shrouded in fog. Wherever the summit was, there wasn't a road. TLRC had been expecting failure and was ready to just bag it and go home. Gnat was made of sterner (or at least more curious) stuff. Spying a VERY faint trail just south of the big cutbank, he suggested they check it out. TLRC begrudged him this and followed into the wet bush. Looking around a bit, he suddenly realized that he could see light up through the trees, and really got with the program. Shortly the two stout explorers found themselves in the expansive summit meadows, and wandering around eventually at the summit.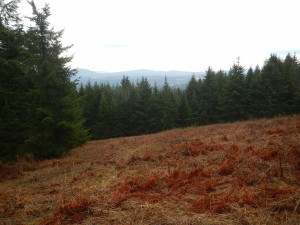 This is an excellent and fun ride. At 13 miles and about 3000′ of climbing it isn't the grind that most of the Coast Range peaks are. Navigation is simple, and Little Grass is a nice place to get to. Highly recommended for those wanting a taste of Coast Range riding.