Someone recently asked: "TLRC, would you mind displaying a recent example of your widely known and highly praised deductive powers?" Of course. The Logging Road Cyclist is happy to indulge.
Why just the other day, TLRC and his buddy Gnat did a ride out to Big Saddle, where they had some Big Views. These, he did not note at the time,  but will now, are generally the result of the big private logging companies turning conifer forests into views through the obvious expedient. Well, he deduced, since OSU Forestry is the source of academic insight into forest management and probably taught the companies a thing or two, and since OSU Forestry owns forests near home, then pretty likely some conifer forests had been turned into views that TLRC could go see without the drive out to Valsetz.
He decided to visit Forest Peak, a place he had been many times before, but not much lately. Given the general rate of view-making in the Coast Range in recent years, and on OSU property in particular, perhaps, he reasoned, there'd be some new views to be had. A test of his "deductive powers" lay to hand.
It was a beautiful winter day, sunny and warm. Dropping from the Nettleton Loop down to Soap Cr affords some pretty nice scenes.
The ride has a couple of offensive stretches of pavement, up to and along Tampico Rd going out, and from Soap Cr back to Sulfur Springs coming back. From Tampico Rd to the north lies the impressive basalt wall of the dump, capped by the little geodesic dome (look close).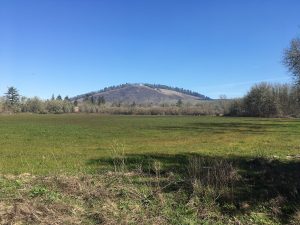 TLRC once was told (probably apocryphally) that the dome was the local radar for the BOMARC antiaircraft missile installation that was nearly completed and abandoned at Adair Village. Certainly there is a lot of concrete left over at Adair from it. BOMARC was an early cruise missile that had about a 400 mile range and could go Mach 2.5. It was 45 feet long, 18 feet wide and hunkered in bunkers and tilted up to launch vertically. It carried either conventional or nuclear warheads. Think about that the next time a younger person talks about growing up in the shadow of Apocalypse. TLRC grew up with getting-under-your-school-desk-to-mitigate-the-nuclear-blast drills in a time when setting off an atomic airburst near the coast off Portland or Seattle to get a bomber seemed like a good idea compared to the alternative.  TLRC waits for it: OK Boomer.
The climb up from Tampico to Forest Peak is about 4 miles and pretty stiff. At about two miles, is the reward:
TLRC has been coming up here for years now, and was startled at how much light there can be.
On the other hand, the elves have lapsed at the top, and the View at the summit of Forest Peak gets worse every year, a good excuse not to do the final excruciating couple of hundred yards to the top.