Bottom Line: If you have or are worried about pudenal/perineal problems, think about giving the Spongy Wonder seat a try. It's well-built, does what it says, and is reasonably enough priced to make it worth trying. It is different enough from a regular seat that patience, persistence and an open mind may be required.
About a year ago, The Logging Road Cyclist sustained serious damage to what he thinks is his pudendal nerve. While months of visits to various specialists failed to produce any definitive diagnosis, the fact of pain in the perineum, or colloquially the "taint", remained. The damage happened while climbing up the steep Skillings side of McCulloch Peak, a road TLRC had ridden dozens of times before. Same ride, same bike, same seat. He had slid forward on the seat to keep the front wheel weighted as he had many times before.  This time, however, at the top, he felt an odd pair of filament-like things down there, like tendons or something, and that was all she wrote.
Three months later, he was able to walk without causing pain in the affected area. Another month or so and after lot of seat modifications he could paddle his kayak and ride his recumbent a bit. TLRC had pretty much given up on ever riding his upright bikes again.
By the Fall, TLRC was experimenting with taking his Gold Rush recumbent out  on the logging roads. With touring tires and fenders, he rode up McCulloch a couple of times. It took a lot of effort. He rode up Old Peak Road to the parking area at the North Ridge Trail and down Woods Cr. Rd. This was all encouraging, so he tried Prairie Mtn. This was not. About 5 miles up, a shooting pain in his right knee convinced TLRC that perhaps this superbly designed road machine was less than optimal for really steep logging roads and another debilitating injury lay ready to pounce should he persist.
Pudendal nerve injuries are a nightmare for the devoted cyclist. They are long-lasting, potentially career ending, and difficult to treat. As the Gnat put it, one of those things that might be the one that stops you. Based on TLRC's experience, one must learn patience, Grasshopper, and try not to give up hope, find ways to adapt. Perhaps it is better not to identify one's self totally with one's pastime, e.g. not naming one's self after it. On the other hand, since age will take it all away eventually, one might view it as a required "life experience"…
That pudenal or perineal injuries are not uncommon is borne out by the number of bicycle saddles that purport to alleviate or prevent them. There are any number of "bench" type saddles that seem to be aimed at the recreational market. They don't use standard rail-type seatposts, are heavily padded and seem unsuited for the rigors of serious riding. Plus they are heavy. Adamo makes a set of saddles designed to take pressure off the perineum, but brief sittings on the training stand showed that they wouldn't work for TLRC's condition. The Bisaddle is intriguing. Selle Italia makes a version of its Flite with a huge cutout, but TLRC was too worried about having anything with a snout on it, at least at this point. There are others too, as the persistent web-searching of an injured cyclist can find. TLRC wishes to state explicitly that this is NOT saying anything against any of these saddles: They may well be just the thing for some readers, and TLRC may well try one again some day. Given that a nosed saddle caused TLRC such damage just gives him pause when he thinks about trying another.
Before proceeding, TLRC would like to note in anticipation of the types of comments he has seen on the forums that yes, he did select his saddles with great care, and yes, he has used the services of a very good bike fitter extensively and for all of his bikes, and yes he was very concious of fitness and flexiblility etc., etc. etc., and that he in fact has a very good idea of what he is doing. His number just came up, and he is not sure it wasn't just age and cumulative minor damage that got him.
Late in the Fall, TLRC decided to give the Spongy Wonder a try. It looks like what TLRC had been fantasizing about for months: no nose, just the seat pads. In fact, many years ago while working through another bout of pain down there, TLRC had ordered one of these and put it on his cross-bike-at-the-time. He rode up and down the street, hated it, and summarily returned it. TLRC found that the sit-pads on the Spongy Wonder tilted too far forward and thus put TLRC in a very uncomfortable position, wrist-wise. Perhaps he should have been more persistent….
Deeply into his beggars-can't-be-chosers state, this time TLRC was a bit more open minded and willing to work on things. At the time of this writing, TLRC has (slightly modified) Spongy Wonders on his cross, road and mountain bikes and thinks he has a workable solution. At the very least, he IS RIDING AGAIN. It may not be how he would like it, and he may not be able to ride like he used to, but TLRC IS RIDING AGAIN, and that is the bottom line.
The Spongy Wonder  has what looks like a continuous piece of steel rod that functions as both the seatpost rails and the support for the seat pads.  It is very nicely machined and seems substantial and strong enough for serious rough-road and trail riding. The seat pads are open-celled foam glued to steel plates that are in turn bolted to slots formed by the support rod. Unlike many noseless saddles, this is a serious piece of gear upon which one can do some serious riding.
Most importantly, this saddle does exactly what it says it does: there is NO pressure on the perineum. TLRC has been able to ride without aggravating his condition. The longest ride to date has been up Prairie Mtn, and given his woeful lack of fitness after so long a layoff from riding, he took nearly four hours for the ride, and suffered no ill effects.
TLRC has seen posts in various forums that complain about how rideable the Spongy Wonder is. Specifically, they complain that without a nose on the saddle, one cannot reliably control a bike. At first, these complaints seem to have some basis. When getting used to the Spongy Wonder it is nearly impossible to take one hand off of the bars without swerving. TLRC found that after a few rides, however, this was quite manageable. Some basic bike-handling skills and patience is all that is required. He has ridden logging roads as steep and rocky as any he ever did with a regular saddle with no problem. Having done none, TLRC is not sure how well this seat will perform on serious mtb riding. TLRC has ridden Dan's and Horse trails (easy to moderate?) without any problem, and willl not hesitate to give it a try on the Alpine or around Waldo Lake, especially with a dropper post. He could see how one might get bounced around more than one might wish, however. TLRC remains optimistic that for moderate mtb work the Spongy Wonder will do. On the road bike, everything seems fine, although TLRC has not tried to corner at 40mph, which some forum poster somewhere declared  impossible. TLRC just doesn't do that sort of thing.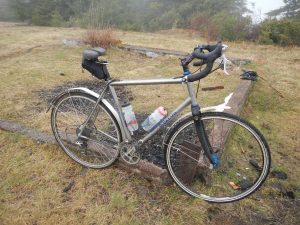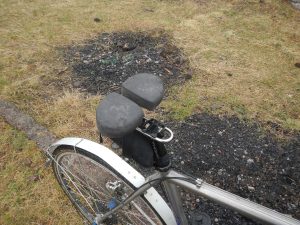 TLRC found a few issues/non-issues:
The seatpost rails are not sized well. TLRC had Niner carbon posts on his cross and road bikes, and the Spongy Wonder did not fit. The seat seems designed to fit mostly on low-end (and hence heavy) seatposts. TLRC tried one from his LBS and it worked. The Spongy Wonder will fit adequately into Thomson seatposts, however, which was an important point for TLRC since he has a Thomson dropper on his mtb, which he very much wanted to use.
TLRC did not like the open cell foam that came with the Songy Wonder. He did not much like the idea of riding a sponge in the Oregon winter. Note that Spongy Wonder does sell very well-fitting neoprene seat covers that would likely alleviate any concerns. In the early days of trying to adjust the Spongy Wonder, TLRC felt that the factory foam was allowing the back of his legs to hit the steel seat pads. For these reasons, TLRC replaced the factory foam with minicell that he intends to cover with the factory neoprene covers anyway. To be clear, all of this is likely just TLRC fiddling to be fiddling, and in particular the back-of-the-legs problem could also have been the result of TLRC not really getting how to adjust the Spongy Wonder correctly in the early days. Also, note that the factory foam is not overly soft, in fact it seems to have about the same resistance as the minicell. This is not a plush recreational saddle.
TLRC found that the Spongy Wonder is tilted too far forward. He found that the best angle for him is a slight forward tilt, and when in that position the front of the seatpost rails was pointed uncomfortably high into his nether regions. TLRC fixed this by visiting a local frame builder with a  big-ass vise and a couple of big-ass crescent wrenches who gave the whole thing a bit of a bend.
TLRC has found that adjusting the Spongy Wonder is a process. This is doubtless because it is a noseless saddle, and thus completely different from what he is used to, as opposed to anything about the saddle itself. He likes to ride supported by his sit bones, and to have the seat pads as flat as possible to minimize the pressure on his wrists. This has sometimes led to discomfort on the back of the upper thigh. Fore-and-aft adjustment seems critical. At any rate this is a new thing, and takes some learning and adjusting to, doubtless complicated by the fact that TLRC hadn't ridden for many months when he started using this seat