Sugarloaf Mountain is a big Coast Range peak (it misses  being in the top 5 by about 100 feet) that towers above the confluence of the North and South Forks of the Siletz River. Like the other big peaks nearby, it is capped by a layer of resistant gabbro, but here, it takes an unusual form. The top of Sugarloaf is a knife blade of that rock, only yards wide, that runs almost north-south for a mile. Check it out on Google Earth, or better yet ride there.
For those seeking an introduction to remote-feeling Coast Range riding, this is the ticket. At 27 miles and 3900 feet of climb, it is pretty moderate, but when the gates are locked, and one has dropped down behind Riley Peak, it feels very lonely. What isn't clear cut is dark and somber second growth with a spooky feeling.  Navigation is not difficult, but has its subtle aspects.
Start at the gate on the main road west of Black Rock and climb the seven miles and 2000 feet up to the big road junction behind Riley Peak. From there, the ride drops a bit and traverses over towards Sugarloaf. From here are some views of a few peaks of Le Massif and beyond:
In the last year, this area has been heavily cut (as the pictures demonstrate), to the point that The Logging Road Cyclist began to get disoriented, even after his many trips up here, albeit with more trees. Hardened as he is to clearcuts, even TLRC was finding them difficult to take on this ride in. It's worth a trip up Riley Peak on a clear day for a balcony view of the Willamette Valley. Fanno Peak, like Condenser Peak, isn't  really worth the climb, unless one just wants to say he has been there (the summit is a 100 foot circle in young second growth with no view). TLRC has, and hasn't gotten much mileage out of it.
In the next 3.5 miles, the road drops about 600 feet, and the climb to Sugarloaf begins.
The last couple of miles to the top are steep and technical. There are spectacular views into some of the most heavily cut drainages in Oregon.
There isn't much between Sugarloaf Mtn. and the ocean, so it bears the brunt of the big winter storms, as these trees attest: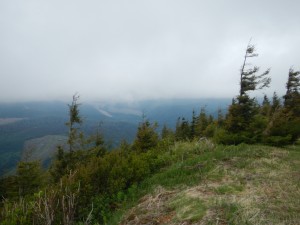 At the end of the ridge, there is a big, clear overlook right above the Siletz forks confluence 2700 feet below and only a couple of miles distant. One of these days, TLRC will  manage to get here on a clear day…
On the way back, TLRC couldn't resist this shot of blooms in a clearcut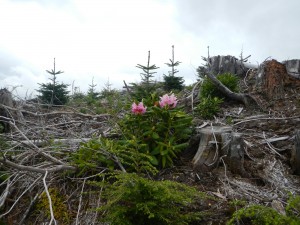 and these graveside flowers: