UPDATED, 19 April 2016: There is a gated section on the descent to the SF Alsea Rd. below Prairie Peak. This is a new red gate with a forbidding sign and cameras. One can get through, but doing so pretty clearly constitutes trespass.
This ride (gpx) starts at the bottom of Tobe Cr. and grinds up a steep 11 miles to the summit of Prairie Peak, then turns back and winds down to the top of Coleman Cr., thence to the South Fork of the Alsea, where a few miles of pavement lead back to the start.
This is a traditional October ride for The Logging Road Cyclist. Once the rain starts and it is time to put on the fenders, Prairie Mountain beckons, and this is a good starter for the area. This loop in its current form was a long time in the making. The last part down to the South Fork of the Alsea took TLRC some figuring out several years after he first started riding here.
A few miles up Tobe Cr. Is a major intersection. Go right, up the steep hill. Left goes down to the SF Alsea at Herbert Mcgee Park.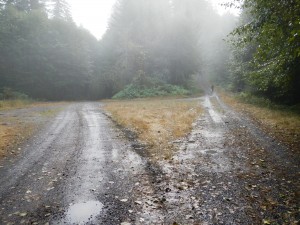 After going through the Gunsite, a short traverse leads to the very rough and steep road to
the top. It had been raining very heavily just before our ride: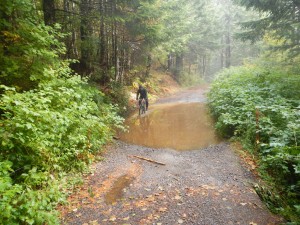 and the views of and from the summit were pretty restricted by the bad weather that we were having
On the way down we had a nice view into Lobster Cr., and alien signs: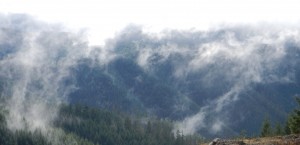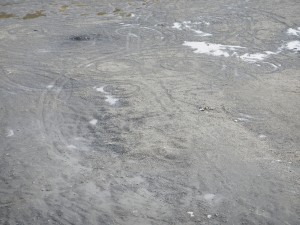 And the recently industrialized landscape of Coleman Cr.