The Logging Road Cyclist's buddy D. may wax lyrical about the Ride Around Prairie Mtn or  the Feagles Cr. Loop, proclaiming them the best  in the compendium, as is his right. And TLRC can see his point of view. TLRC, however, maintains his own counsel, and a personal favorite is this Klickitat Mtn. Road Loop. Real roadies beware: there is gravel here, maybe a total of six or seven miles overall. But given the many miles of remote single-lane pavement in a beautiful setting, why deny oneself the joy of doing it on a light, fast road eatin' machine?
This longish ride visits three drainages, climbing in and out of idyllic, remote Coast Range valleys divided by some steep ridges traversed by lonely paved logging roads. On Sunday,  a brilliant April day, TLRC was passed by a total of two cars in nearly six hours on the ride.
The loop starts up Lobster Valley, alternating between forest and open fields.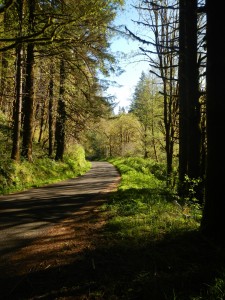 Preacher Cr. Rd. climbs away out of the Lobster Cr. drainage. The first mile is the steepest part, followed by a more gradual ascent and the initial section of gravel, 2-3 miles long.
A precipitous drop into the Five Rivers drainage is followed by a pleasant ride which leads to the second substantial climb up to the 32 Rd.
Beyond the intersection of the 32 and 3250, a pleasant rolling descent is followed by the steep drop into Indian Cr. (some gravel here),
and, after some pleasant miles along this major road, the turn onto Thomson Cr., where this bucolic aspect
belies the constant wariness maintained by its denizens, doubtless concerned about hordes of KLCC listeners descending with health insurance policies that must be bought, or else: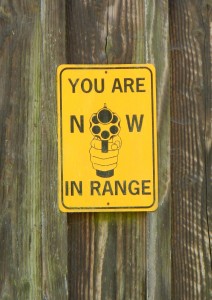 Getting "out of range", the biggest climb up to the flank of Saddle Mtn (with gravel on the initial climb up Thompson Cr.) leads to Rd. 58, "The Backbone of the Siuslaw", along which one rolls through a few miles of rock, back to pavement and the final descent back to Five Rivers and six miles of fast pavement to the end.
This is 65 miles of pretty much nowheresville, so be prepared to take care of yourself. Bring lots of food, water, tools, and tire stuff, because there sure isn't any out there. It's easy to start daydreaming along, given the lack of cars. Remember, the few drivers feel that way too, and you may (as TLRC has done) come around a corner and find yourself face to face with a driver just as  surprised as you. Or a bear, or mama big cat for that matter. But for an adventurous and beautiful ride, it's hard to beat this.