As mentioned elsewhere, The Logging Road Cyclist from time to time finds himself in Oakdale California, where the two Rabid Cyclists (RC1 and RC2) indulge themselves and haul TLRC around their latest project. As their cycling tastes coincide pretty much exactly with his, this is a mutually beneficial arrangement. Tastes are one thing, though, and speed is another. TLRC sees the RCs as a collective that he holds in his mind as "The Machine People", because they go a lot faster than he does and don't ever get tired. They use bigger gears too. Avid readers will probably have gathered that TLRC is usually a solo rider. As such, he is free to self-visualize without contradiction by external influences, like facts.  In his natural, logged-off habitat, TLRC grinds away, seeing himself as a sinewy, feline-like forest creature, indefatigable and swift. With The Machine People, he feels like a short fat kid with asthma. An interesting psychology comes into play. As TMP levitate into the distance, TLRC finds himself struggling not to fall even further behind. Panic sets in. TLRC asks himself: "How will TLRC finish this ride? Already out of breath, so sweaty and slow?" Then he remembers:  "Je suis TLRC! Avec le temps, tout peut être monté!",  and he puts his head down and gets on with his ride.
This ride (gpx) starts and ends in Columbia State Park, just north of Sonora. (Note: TLRC erred in both the turning on of the Garmin, and in the turning off of the Garmin, so the ride appears to start down Italian Bar Rd. and end somewhere near Sonora. This is an illusion.) Unusually, there were residual pockets of snow at the start, and the weather was pretty cool and threatening rain. TLRC felt superior and better equipped than the Californians, what with his fenders and tights and all. He even carried an extra fleece for them, since they seemed disconcerted by the cold. His kindness was later mildy mocked.
Leaving Columbia, a short climb gets one onto Italian Bar Rd., where TLRC spent a summer 40 years ago working as a guide on the then-flowing Stanislaus River. The company was an anachronism even then. There were no female employees, the guides referred to themselves as "boatmen", were constantly engaged in various tests of strength called  "the true test of a boatman" (involving things like vicegrips and many oars), and didn't wear lifejackets. TLRC had been here and there in the area in the '70s and '80s, but had not been to the Stanislaus canyon since 1983, when New Melones Dam flooded the run that so many had loved so well. He was not looking forward to his first site of the lake where once the river ran.
After a bit the road drops down into the canyon of the South Fork of the Stanislaus, the first of the three major drainages this ride crosses. The South Fork is an intimate little river with a canyon like a miniature Tuolumne. The last time TLRC was here was to kayak it, on June 3rd, 1980, the day Ted Kennedy won the primary (which for some reason has stuck in some crevice of TLRC's brain). The South Fork was a brand-new, state-of-the-art run that TLRC did in a haze of exhaustion with Mike S. (the other one) and Hollywood Rick.  TLRC and Rick were so tired from the run of the day before that they skimped on scouting, preferring to take turns looking at the rapids, and then coming back and explaining the route through to the others. This made good sense in terms of energy savings, but can be bad policy in class V. After a certain point, Mike squawked and put a stop to it. Back then, most of the time, one ran the whole of the South Fork, down to the Main, all on moving water.
Crossing the South Fork, Italian Bar Rd. continues, now climbing out of the canyon. After a while, Road 3N03 branches off to the left. This is a wonderful, rutted, technical and fun road.
The 3N03 climbs over the divide and drops down to Rose Creek.  This small tributary of
the Stanislaus was a focus of the commercial river trips. Near the confluence, Rose Cr. has beautiful pools to swim in, providing a welcome relief in the broiling summer days. Passengers were usually content to wallow in the lower reaches while guides (boatmen at least) found relief from passengers by heading higher up. From here the second climb starts and leads to the minor drainage of Knight Cr., a tributary of Rose Cr., which was also used by passersby on the Stanislaus for swimming and relaxation…
The last minor climb of this part of the ride leads to the Middle Stanislaus divide, and the road that leads from Camp 9 to Mt. Knight and points beyond.
Another memory way-point for TLRC. He was last here the spring of 1979 engaged in the ignominious act of driving a car shuttle (usually reserved for invalids or girlfriends who hadn't yet wised up) for two Famous Kayakers, heading for a first descent of the Middle Fork of the Stanislaus from the Mt. Knight trail to Camp 9. A pretty big deal, involving a long hike in and 9 miles of unknown but presumably hard whitewater. The day previous, up on the North Fork, TLRC got himself pinned upside down in his kayak, and in the effort to force himself out of his boat his heel caught on the floor and his shin was braced against the cockpit. Water pressure and the efforts of TLRC to escape hyper-extended his knee, and TLRC was thus in no condition for Mt. Knight. He spent a desultory day at Camp 9 reading, waiting, eating, until finally the warriors, flush with their victory arrived, not cheering up TLRC at all. On June 2nd 1980, there was a payback. Hollywood Rick and TLRC put in 7 miles above the Mt. Knight put-in, ran that and all of Mt. Knight in a day, and were very pleased with themselves indeed. It was a long, hard and beautiful run, and the reason why they were so tired on the South Fork on the 3rd.
From the Mt. Knight road, one can look back over the drainages one has climbed through,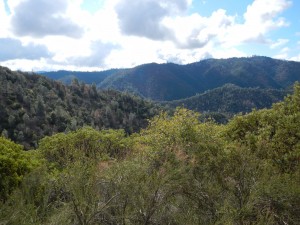 and down into the Stanislaus canyon, with the drowned river and reservoir bathtub ring in the distance.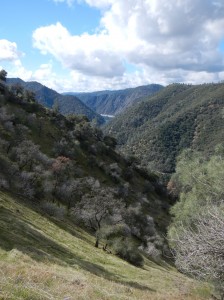 Where the river trips started, motorboats with loud stereos run.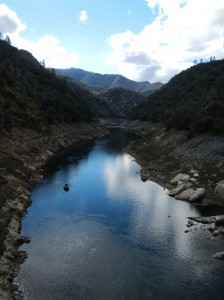 The next-to-last climb is Camp 9 road, which is (roughly) paved and a nice gradient: even TLRC middle-ringed it. We crossed the bridge and headed up, weaving through a small group of cattle.  After a while, gunfire was heard. TLRC informed RC1, who was dawdling along with him, that it was a large revolver. Sure enough, rounding the corner, they saw two LL Bean types shooting a large revolver, across the road!  Now, Camp 9 is not Hwy 49, but there was traffic, not to mention TLRC and TMP. This was one of the stupidest damn things TLRC had ever seen. But, he just made sure they (the dumb asses) saw them (TLRC and RC1), kept his head down and headed out of danger, when to his (TLRC's) dismay, he heard RC1 informing the shooters that they were not being safe and they were making her uncomfortable, etc etc. They responded as expected, saying they had it under control and she was overreacting, etc etc. It never really got heated, but it wasn't really civil either, and it wasn't dying down fast enough to suite TLRC. Once past, TLRC recited to RC1 The MORE Fundamental Algorithm: NEVER ARGUE WITH ARMED STRANGERS ABOUT ANYTHING, FOR ANY REASON, ESPECIALLY  IN, BUT NOT LIMITED TO, CASES WHEN THEY ARE ENGAGED IN OBVIOUSLY STUPID ACTIVITIES WITH THEIR GUNS. TLRC went on at some length in this vein until it was made clear to him that the conversation should, in fact, be close to it's end.
The Stanislaus canyon is one of the largest limestone canyons in the west, and you can see the wall from upstream, and a lot of the limestone from the top of the canyon, looking back into it:
And from the top of Camp 9 Rd, a view of the high country: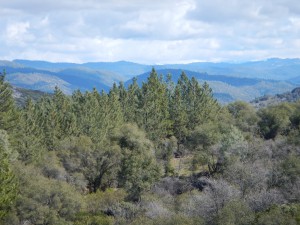 After a swift drop to Vallecito Rd and a rolling run to Parrots ferry, the final climb to Columbia finishes the ride.