The Logging Road Cyclist most often uses this ride (34mi, 2800′) as an escape on big holiday mornings: Thanksgiving, Christmas and New Years (in fact it was this ride that TLRC was heading off to do when the Unfortunate Events of 12/31/12 occurred, those involving the patch of ice and comminuted fracture of the right acetabulum). Besides keeping him away from football on the teevee and out from under the feet of the womenfolk in the kitchen, the ride is long and steep enough to leave the impression of having done something substantial, yet short enough to get back in time fer eatin'! More to the point, all are saved from a morning of TLRC jabber, and when he gets home the silence continues while he stuffs his piehole with his richly deserved feast, thus pleasing the cooks while reducing irritation all around.
The ride as marked begins and ends at the Bald Hill parking lot. Wander over to Philomath and take the back streets to the intersection of Grange Hall Rd. and Hwy 34. Jog north a bit and left onto Old Peak Road, which, with a bit of creativity one will follow to Woods Cr. Road, thence to the intersection with the top of Tum Tum Road at the parking area for the well-known North Ridge Trail on Mary's Peak.
Old Peak Rd. has a real Appalachian feel to it. One can almost hear "Dueling Banjos" wafting through the cold, humid air. There is the usual intensive management:
A few miles of steady climbing lead to the end of the "county maintained" road and the Corvallis Watershed boundary.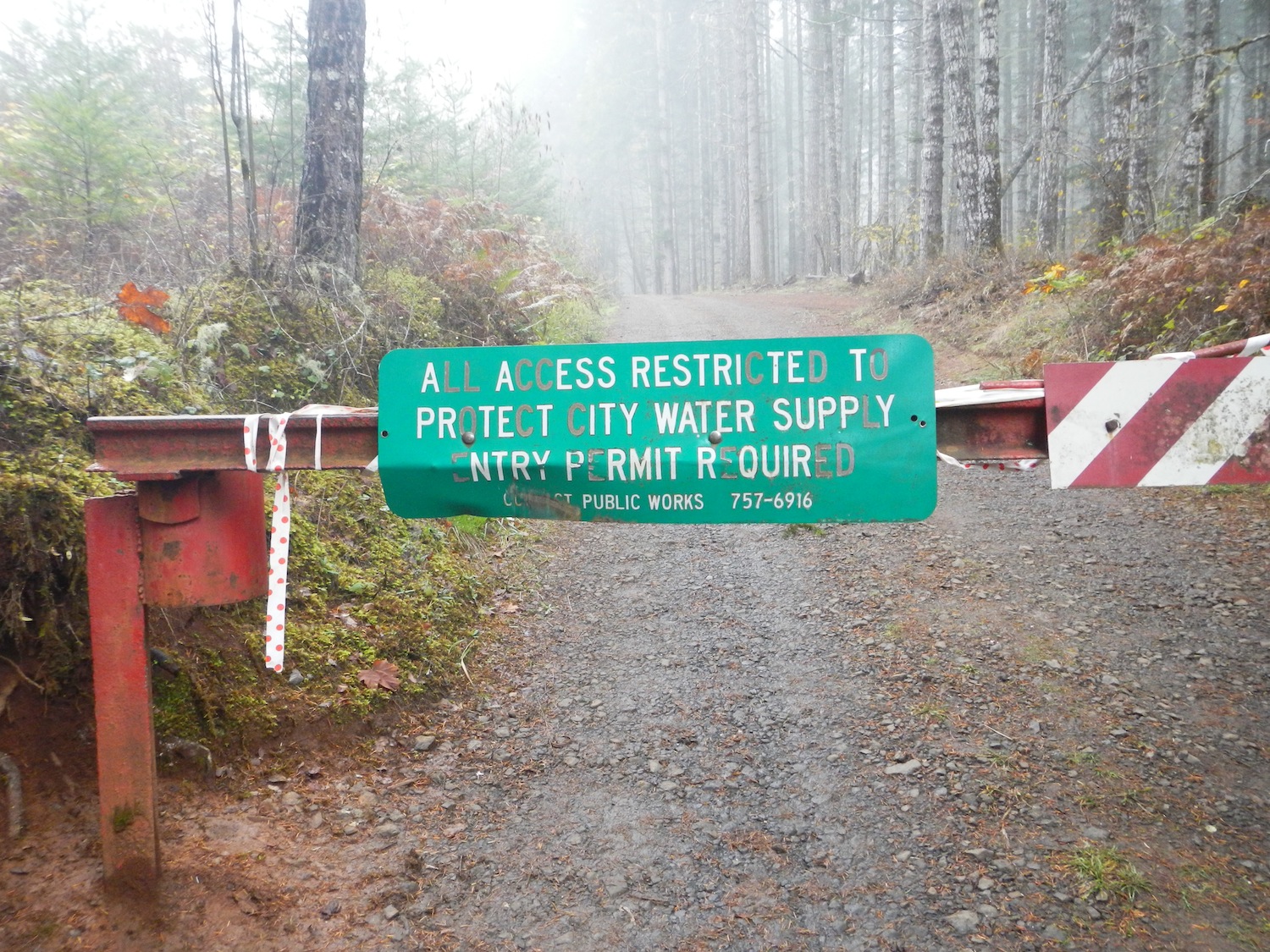 The first time he encountered this sign, TLRC found himself in a moral quandary: do the ride he had set out on, or obey the rules. The rules, on the face of it, had a reason. After all, he drank Corvallis water, and in general was disposed to followed rules that maintained, indeed enhanced the commonweal. On the other hand, TLRC was to flit through, barely kissing the ground with his inoffensive passage. Self-interest won. Under the gate he went, shortly to find: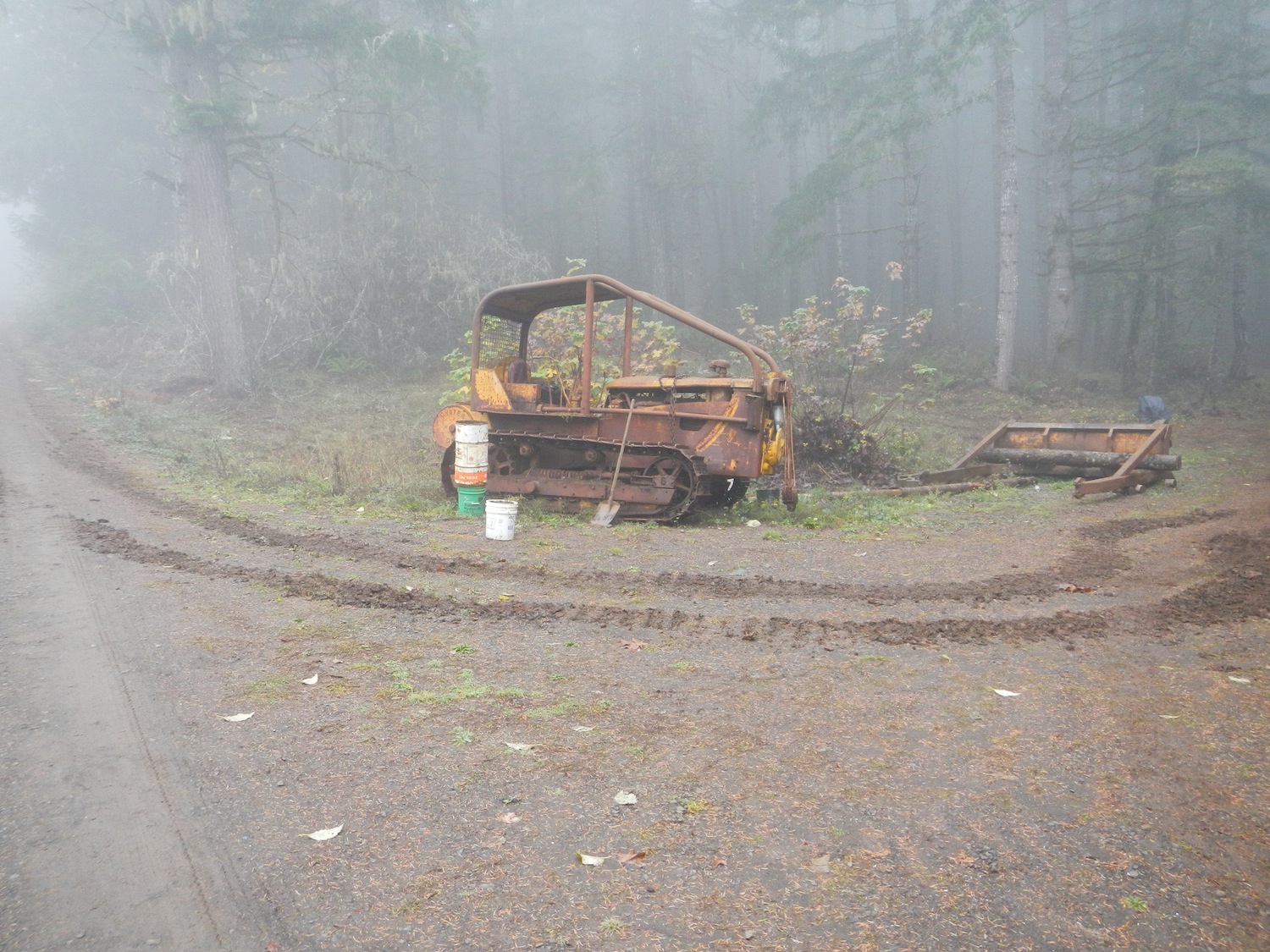 Note the buckets of petrochemicals. Others lie scattered about. TLRC no longer felt guilty.
From here the route generally follows "main" roads, but the usual confusion obtains. Suffice to say that on his pioneering ride here, TLRC found his way without a lot of trouble.
Once at Woods Cr. Rd. (that much is obvious) turn left. From here, the route follows the Hawwis Bwidge Wowwypop backwards. Continue past Hawwis Bwidge to Wren, turn right on Hwy 223 and then right again on Cardwell Hill Rd. After a mile or so is a gate at the boundary of the Fitton Green Natural Area. The climb over Carwell Hill is tough: in the lower, less steep part the road is slick in deep mud in the winter; higher up, where the road is gravel and well-drained it is very steep.