Another Sunday found The Logging Road Cyclist huffing his way up another punishing climb out of the SF Santiam River. This time the climb was up the 2044 Rd out of House Rock, and at the top, 9 miles away, was TLRC's new favorite road, the 1509 ("Backbone of the Sweethome RD"!). His goal was a new take on the Old Santiam Wagon road, whereby rather than use a car shuttle, he would ride it as a loop. The serious climbing ends at the junction of the 2044 and 1509, after which the ride rolls along the Santiam-McKenzie divide through beautiful forest and with great views to the High Cascades and some big peaks way out over by the Brietenbush.
The big climb is not without its charms, eg. Three Crrek: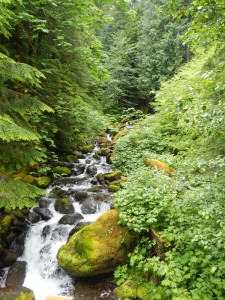 which tumbles down out of wonderful forest on its way to Latiwi Cr. far below. After the 1509 junction, the ride gets easier and the real views start.
The 1509  rolls along, passing beneath the face of Latiwi Mtn, on it's way to the junction with the paved 15 Rd, after which it's a piece of cake down to Tombstone and the Old Wagon Rd. Moderate single track varying from scruffy to beautiful takes one back to House Rock.
This 30 mile, 4700′ loop is certainly more strenuous than just riding the trail and doing a car shuttle, but the major 9-mile climb pays big dividends in terms of some exercise, lots of great views and some very nice Cascades forest.  A wonderful ride for a summers' day!