The Logging Road Cyclist is considered by many to be a man of bold vision. While he appreciates this accolade, he knows his limitations. Once new territory is staked out he tends, in his methodical way, to want to tidy up, to be sure all the little nooks and crannies of a new area are all sorted out and stored away in the TLRC repository of gravelly knowledge. He also has his training agenda, and feels compelled to try more and more unpleasant feats in order that yet more unpleasant feats may be accomplished, &c.
Last week, TLRC was pondering his next venture. Foremost in his mind was a return to the Siuslaw to ride The Abomination route so as to consolidate his mental map of the regions north and west of the Yachats River and 58 Road, respectively. Also, it sounded like such a punishing ride that TLRC was sure that on completion he would feel well satisfied and the voices in his head would subside for a few days, at least.
Thus TLRC, until a call from his buddy D. put him (TLRC) back in the exploration frenzy. Judging from the background noises, poor connection and slightly belligerent tone, D. was apparently consuming a beer in his bike-building shack out back, while at the same time suffering from a bout of having to know about the fishworthyness of Wiley Cr. and the Calapooia River. TLRC knew parts of both well from his boating days and signed up immediately, realizing he was becoming too set in his Coast Range ways, and  needed to expand the website, besides. Who had the vision now? Our man, D. On Sunday, off they went.
It's not a long drive from Corvallis to McClun Park on the Calapooia Rd. up from Holley, and it's a good place to start a ride. The pair followed back roads to Sweet Home and then prowled through the part of town seldom seen when heading fast up Hwy 20. Gaining Wiley Cr. Road, they headed up into the mountains. D had a Google map printout, TLRC a TOPO! section only for very high up the drainage with Forest Service road numbers inked in. They both figured, how hard is it to ride up Wiley Cr. and down the Calapooia?
Shortly after the first wrong turn, they were accosted by a guardian.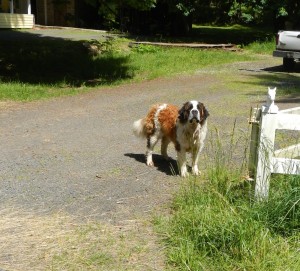 Inside the house were three more dogs, each with its own window. Collecting themselves, TLRC and D got on the right track and arrowed towards the divide, following scenic Wiley Cr. with its fun-looking drops.
TLRC had been expecting the usual private logging land moonscape, but was pleasantly surprised at the amount of foliage left standing.
That said, the longer perspective shows the mix of industrial and recovered industrial landscape in the drainage.
Towards the top, the road really starts to climb, and the team was uncertain about exactly where they were, owing to cartographic limitations. TLRC felt certain that a high point off to the SE was the height of land, Green Mtn., and pointed it out to D who, in his usual direct way stated that he really liked it when TLRC started "pointing at random shit like you actually know where you are", which TLRC felt was as unkind as an earlier comment about "little trees".
At any rate, by and by they obtained the crest, where, thanks be, there were actually road signs that had numbers that corresponded to the map TLRC had inked in the night before. Here was a serious case of Fundamental Axiom breakage: dropping down an unknown road for thousands of feet into another drainage and nearly 20 miles back to the truck.
It felt pretty solid at first: a good road sign, a single forest road of good quality, a huge drainage that could be nothing but the Calapooia, bright clear weather. But then the trees stopped, the road ramified into the usual maze and suddenly the possibility of dropping a couple of thousand feet into a dead-end landing became very real.
About then, at least fifteen miles in from the last gate, TLRC started to wonder how much more climb they had in them, if their bike maintenance was really up to snuff, why he hadn't bothered to bring along the spare tire, and why situations like this made these not like "regular" bike rides.
They sucked it up, and mindful of past problems after violating the FA on the backside of another Green Mountain, they skittered down the rough, loose road without a whole lot of mirth. An obvious road intersection-creek crossing gave some good nav, an obvious drainage some more, and then the best sign of all, a locked gate, meaning that most likely there wasn't a landing on the other side. Indeed, a few minutes found them pounding recklessly down the ball-bearing like surface of the Calapooia Road.
It took them a lot longer than they thought it would to get back to the truck, but they did, after nearly 60 miles, well pleased with themselves (and with D especially) for putting together this great ride.