Anyone who spends much time reading The Logging Road Cyclist (like Ryan), or for that matter spends much time out in Oregon's Spectacular Coast Range gets the importance of navigation. It is really really really easy to get lost. Well here is a nice ride, in that it loops around Mary's Peak (a worthy goal in itself), but furthermore, the C2C Trail folks have marked all the scary downhill part. You can just park at the end of Woods Cr. Road by the gate and fling yourself off the heights down to the Harlan Valley below and just follow these: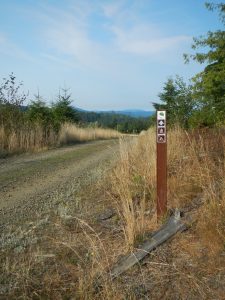 Don't even bother with a map! There is even a short section of nice single track installed.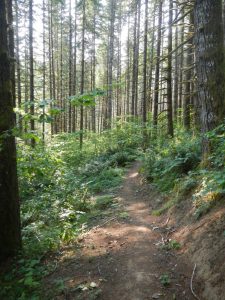 But listen up. They don't want the trail chewed to bits when it's wet, so follow the rules: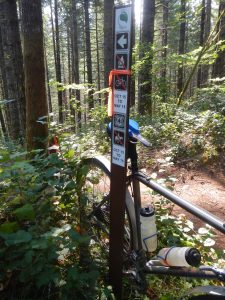 no riding this part Oct 15-May 15 (note the MkIV Panzer saddle peeking coyly out from behind the sign?).
After the single track another mile or so of road until a gate is reached. Turn left on the 30 road, ride to the pavement at the top, turn left, take the second right,  pass a gate and slide back to the car. The climb up the 30 is stiff: 2300 feet in just under 8 miles.
TLRC thinks this is a good ride for anyone who thinks, but isn't sure, that they will like this kind of riding.