There are times when the feet of The Logging Road Cyclist aren't a mess. His plantars aren't torn, and his Morton's aren't neuromacizing. Then he likes to strike out afoot rather than on wheels and enjoy striding out. Also, Devil Puppy gets to come.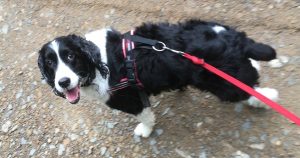 She too has had problems the last couple of years, but together they have worked themselves back up to eight miles or so at a time, with care.
So, eight miles. Too short for a ride, but maybe just right to explore an addition to another ride? Here is a worthwhile extra 6 with a moderate climb that takes one to a surprisingly nice viewpoint smack in the middle of the Valsetz Triangle: Chandler Mountain. TLRC has ridden over Chandler Pass to the east, and recently looked over Fourth of July Creek to Chandler Mountain from the west. That was when he first thought about actually climbing up it. It's a perfect spot for those who like poking around Valsetz but shy away from the ferocious, wheel-spinning climbs up the major summits frowning down upon the remains of the Lake.
The route is straight forward, and all on good road. There are signs of predators:
And the promised views:
And of course, the cheesecake shot: